The Pussycat Dolls Burlesque Revue Rolls Into Town
"Bump, Grind, Repeat"
"…the same old song and dance…" Aerosmith


When I heard that the The Pussycat Dolls Burlesque Revue was coming to Casino Hollywood, with Carmen Electra as their featured performer, it sounded like something that I needed to see. Grabbing my camera, and lovely wife Kelly for moral (or amoral) support, I jumped on I-25 and headed into the dark depths of the no-man's land between Santa Fe and Rio Rancho to see a bunch of (hopefully) attractive women (and a celebrity of one type or another) sing, dance, and take off their clothing. All in a day's work.
OK, first we'll start with the history of the troupe. Founded by choreographer Robin Antin in 1995, the Pussycat Dolls began as a burlesque dance revue based in Los Angeles– primarily at the Viper Room & The Roxy on the Sunset Strip – then spawned a second revue in Las Vegas, next growing into an A-list phenomena with a revolving cast of guest celebrities, and eventually becoming a recording act with a number one dance hit.
It wasn't long after launching its revue that the troupe began attracting actresses and models who wanted to become a Pussycat Doll for a night. Christina Aguilera, Pamela Anderson, Kelly Osbourne, Pink, Britney Spears, Carmen Electra, Eva Longoria, Jessica Simpson, Fergie, Kim Kardasian and Gwen Stefani are just some of the celebs who donned lingerie and pinup costumes and joined the Dolls for their flirtatious shows. The Burlesque group later moved to Caesars Palace, and in March 2011, opened the "Burlesque" Lounge at Planet Hollywood in Las Vegas.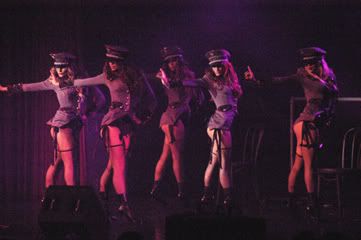 Their Albuquerque performance opened with Robin Antin herself as guest MC for the evening, welcoming the audience and talking about the history of the act. A nice warm- up for what was yet to come.
The show itself consisted of Vegas/theatrical versions of Pussycat Dolls hits, sung by two attractive singers – one blonde, one brunette, (replacing original lead vocalist Francesca Ramirez) with well-produced backing-tracks (no live-musicians) and appropriate lighting– combined with hot back-up dancers dressed in lingerie strutting and flaunting across the stage with them in-time (usually) to the songs.
They (of course) performed their debut hit-single "Don't Cha," -- which begs the question about the relative attractiveness of the singer and the listeners' paramour – as in "Don't Cha wish your girlfriend was hot like me?" Indeed.
Besides their own songs, the Pussycat Dolls gave the audience their version of classic rock and other compositions such as; "Hey Big Spender" (from Broadway's "Sweet Charity"); Jimi Hendrix's "Foxy Lady"; and a really bad version of Led
Zepplin's "Whole Lotta Love"; plus a cut or two from "Cabaret" and more of that clichéd genre. All the while dressed, so to speak, in Feather Boas, Bustiers, Garters, Fishnets… and for one number faux Military uniforms and riding crops! Who could ask for more?
With new TV shows providing flashback snapshots of an easier time in our country's history – (Mad Men, Pan Am, The Playboy Club), this type of burlesque show is suddenly back in vogue with audiences – of special note is one of the highlights of the performance – Nancy Sinatra's "These Boots Were Made For Walkin'", with a dash of 60's Go Go moves, coupled with the expected partial disrobing of the dancers. Additionally, a surprise choice of material was Nina Simone's 'Feeling Good", but the performance was actually very well done. The blonde had a much better voice than the brunette, and was willing to stretch it a bit.
But everyone was there to see Carmen. No singing from the Diva, but she did do the requisite "bombshell in a bathtub routine" (looking like Bridgette Bardot caught in a truck's headlights) – along with two or three other numbers which featured her…..well, they featured her features. Her best features. And trust me, her dancing had nothing to do with it.




On the whole, their performance of live singing and dancing was a tight, nonstop and jam-packed event with over-the-top performances, by a selection of beautiful women. You will have a good time at this show, if your expectations are none too high, and you're a fan of the tease. Nice voices, good arrangements, cute costumes, attractive girls, Carmen Electra. What else could you possibly want?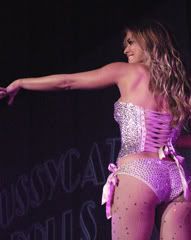 The show was enjoyable, the theater was comfortable, the staff was attentive and well-trained, and I look forward to attending more performances there in the future. Especially if they are as "interesting" as this one.
All photos by Eric Davis